Strawberries are in Season in Florida - Make February Berry Sweet
Looking for a sweet treat to make your holiday special? We've put together a berry sweet list for you to try. February is a great month to load up on strawberries! Check out the seasonal food guide to see what other fruit and vegetables are in season this month.
Strawberry tip:
Bigger isn't always better when it comes to strawberries; look for berries that are glossy, fragrant, and deeply colored all the way up to the stem.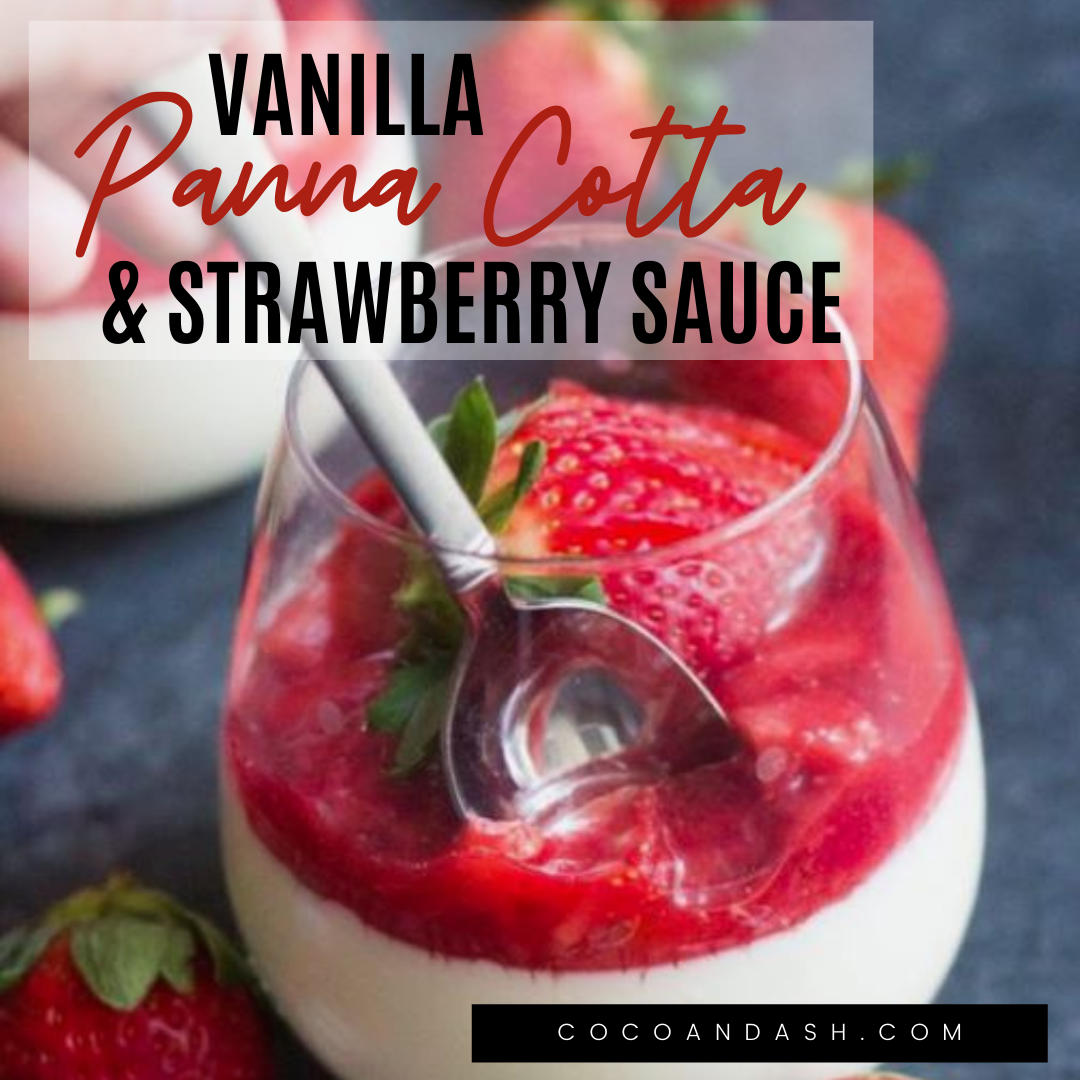 Ingredients:
The panna cotta:
1/4 cup whole milk

2.5 tsp unflavored gelatin

2 cups heavy cream

1/2 cup white sugar

pinch of salt

1/2 vanilla bean pod or 1 tsp vanilla extract
The strawberry sauce:
1 cup fresh strawberries (sliced & divided)

3 tbsp white sugar

1 tbsp water

1 tsp lemon juice
Instructions:
The panna cotta
1. Place the milk in a small bowl and sprinkle the gelatin evenly over the milk. Let soak for 5 minutes.
2. In a small saucepan, combine the cream, sugar, vanilla seeds, the seeded vanilla bean pod, and a pinch of salt. Bring to a low boil. Let simmer for 5 minutes
3. After the 5 minutes, remove the pan from heat and whisk in the milk/gelatin mixture until smooth.
4. Strain the liquid through a mesh strainer. (You don't need a super fine strainer as you are not trying to strain out the vanilla beans. You're just trying to strain out any undissolved pieces of gelatin.)
5. Pour into your individual glasses, cover and refrigerate for at least 4 hours or overnight.
The strawberry sauce
1. Add 1/2 of the sliced strawberries, sugar, lemon juice, and water to a small saucepan and bring to a slow boil. Let simmer for 5 minutes.
2. Remove from heat and stir in the remaining strawberries
3. Let cool completely then spoon over the chilled panna cotta. Refrigerate again until ready to serve.
Ingredients:
For the crust:
1 sleeve (9 cookies, 137 grams) graham crackers

3 tablespoons (43 grams) REAL Seal® unsalted butter, melted
For the filling:
12 ounces (340 grams) REAL Seal® cream cheese, at room temperature

1/2 cup (100 grams) granulated sugar

1/2 cup (140 grams) seedless strawberry preserves

Red gel food coloring, if desired

1/2 teaspoon vanilla extract

1/4 teaspoon fine salt

1 large egg

For the topping:

1/2 cup (85 grams) semisweet chocolate chips

1/4 cup REAL Seal® heavy cream

12 small strawberries
Instructions:
Make the crust:
1. Preheat the oven to 350°F. Lightly grease a 12-cup mini cheesecake pan with nonstick spray.
2. Place the graham crackers in the bowl of a food processor and pulse until finely ground. Add in the melted butter and pulse until moistened. Divide the mixture among the cavities of the cheesecake pan, about 1 heaping tablespoon in each. Firmly press the crumbs into the bottom of each cavity (a shot glass or other small object makes easy work of this).
3. Bake the crusts for 5 minutes, or until fragrant. Remove from oven and reduce temperature to 325°F.
Make the filling:
1. In a large bowl, use an electric mixer to beat the cream cheese and sugar on medium-high speed until smooth and fluffy. Add the strawberry preserves, food coloring (if using), vanilla, and salt and beat until smooth. Add the egg and beat until just combined. Divide the mixture among each cavity.
2. Bake for about 18 minutes, or until set. Let cool to room temperature. Cover with plastic wrap and let chill for at least 3 hours or overnight.
Make the topping:
1. Place the chocolate chips in a medium heatproof bowl. In a small saucepan heat the cream just until simmering. Pour over the chocolate chips. Let sit for 3 minutes before stirring until the mixture is melted and smooth. Allow to cool and thicken.
2. Top each cheesecake with the ganache, then press a strawberry into the ganache. Serve or cover and store in the fridge for up to 1 day.
Ingredients:
Biscuits:
250 g/ 8.8 oz/ 2 cups all-purpose flour + 30 g/ 1 oz/ ¼ cup for kneading the dough

1 teaspoon fine sea salt

1 tablespoon baking powder

75 g/ 2.6 oz/ ¾ cup icing sugar

110 g/ 3.9 oz/ ½ cup unsalted butter

90 ml/ 3 oz/ 1/3 cup + 1 tablespoon milk

90 ml/ 3 oz/ 1/3 cup + 1 tablespoon heavy/ double cream (See note)
Strawberries:
1 kg/ 2.2 lbs strawberries

5 tablespoons granulated sugar

1 teaspoon vanilla extract

Topping:

500 ml/ 17 fl.oz/ 2 cups heavy/double cream

2-3 tablespoons granulated sugar
Instructions:
Biscuits:
1. Preheat the oven to 200 degrees Celsius/ 400 degrees Fahrenheit. Line a baking tray with baking paper.
2. Combine 250 g/ 8.8 oz/ 2 cups flour, salt, baking powder, and icing sugar together. Cut the chilled butter into small cubes and add the cubes to the flour mixture. Stir to coat the butter with the flour. Cut the butter into the flour following one of the methods described above. Cut the butter into the flour with a knife or with a dough blender or cutter. Or pulse the butter into the flour in a food processor until the mixture resembles a coarse meal. Or you can work the butter into the flour with your fingertips. Or you could freeze the butter, grate it over the flour and work it into the mixture.
3. Spread the remaining 30 g/ ¼ cup flour onto the working surface. Turn the dough into the flour until it is coated in flour all over. Gently knead the dough, working the flour into it, but not too long, about 10 moves should be enough.
4. Carefully press the dough into a 2,5 cm/1-inch thick rectangle. Cut the biscuits using a cookie cutter with a diameter of 6 cm/ 2 ½ inch. Gently press the scraps together and cut 1 or 2 extra biscuits. Place them on the baking tray and bake for 12 to 15 minutes until golden. Transfer to wire racks and let cool completely.
Strawberries:
1. Clean and cut the strawberries into halves or quarters, depending on their size. Place them into a bowl, stir with the sugar and let stand for at least 30 minutes.
Whipped Cream:
1. Pour the heavy cream to a bowl and start beating it. Slowly add sugar to taste and continue beating the cream until it reaches the desired consistency.
Assemble:
1. Split the biscuits in the middle. Cover the bottom side with a generous amount of strawberries, some of their juices, and a good dollop of whipped cream.
2. Cover with the second half of the biscuit and top with some more strawberries, juices, and whipped cream. Serve immediately.
Ingredients:
1 cup water

3/4 cup sugar

2 Tablespoons cornstarch

1 - 3 ounce box strawberry Jello

4 cups diced or sliced strawberries

12 mini graham cracker crusts (2 packages store-bought)

Cool Whip

fresh whole strawberries, optional
Instructions:
1. Whisk together the water, sugar, and cornstarch. Bring to a boil over medium high heat. Reduce heat and simmer 1-2 minutes.
2. Stir in the Jello until dissolved. Let the mixture cool 5-10 minutes.
3. Spoon the strawberries into the mini graham cracker crusts.
4. Pour the Jello mixture slowly over the tops of the pies. Let the Jello fill in and then pour more on top being careful not to overfill.
5. Refrigerate until set. Top with Cool Whip and a whole strawberry, if desired.
Ingredients:
6 oz

(

170g

) white chocolate baking squares, chopped

1 cup

(

260g

) vanilla or plain Greek yogurt, room temperature (I prefer vanilla)

1/2 cup

(125ml) whipping cream

4 cups

(1lb) fresh strawberries

4

wine glasses for serving (or any drinking glasses would work too)
Instructions:
1. In a medium glass bowl, melt the white chocolate in the microwave for 30 seconds at a time until almost completely melted. Stir until smooth.
2. Stir in the yogurt and chill for 30 minutes to thicken (If the chocolate solidifies when you add the yogurt, just microwave for another few seconds and stir until smooth again, then chill)
3. Using an electric mixer, beat the cream until stiff peaks form. Fold into the chocolate mixture. Pour into a piping bag or large plastic ziplock bag.
4. Chop the strawberries, reserving 2 to garnish. Place 1/2 cup of chopped strawberries in each wine glass. Cut the tip of the piping bag or corner of the ziplock bag and squeeze some mousse on top of the strawberries. Repeat and garnish with the reserved halved strawberries. Serve or refrigerate for up to 2 hours.
Ingredients:
Dough:
2 sticks (226 grams) organic salted butter, softened

142 grams (1 cup) organic powdered sugar, sifted

2 teaspoons organic vanilla extract

255 grams (2 cups) organic all purpose flour

2 teaspoons dried basil
Filling:
57 grams (2 ounces) organic strawberries

212 grams (1 1/2 cups) organic powdered sugar, sifted

1/2 stick organic salted butter, softened
Instructions:
1. Preheat the oven to 350°F. Line 2 cookie sheets with parchment paper.
2. To make the dough: In the bowl of a stand mixer fitted with the paddle attachment, add the butter, powdered sugar, and vanilla extract. Mix on low until combined and you don't see powdered sugar anymore, there will still be a few chunks of butter but that is okay because it's very soft.
3. Add the flour and basil into the butter mixture and mix on low until combined and smooth. The dough should feel like play dough in your hands.
4. Using your hands, form the dough into 36 balls and place them on the prepared cookie sheets. Flatten each one slightly so they are about 1 3/4-inch in diameter.
5. Bake for 13 minutes until golden brown. Allow to cool completely on the cookie sheets.
6. To make the filling: De-stem the strawberries and cut them into small pieces. In the bowl of a stand mixer fitted with the paddle attachment, add the chopped strawberries, powdered sugar, and butter and mix on low until combined. Speed mixer up to high for 1 minute or until light and fluffy. Put in a piping bag with no tip.
7. Turn over every other cookie so they are all paired. Pipe a dollop of filling onto each cookie and sandwich them together.
8. Store in a cool dry place, or in an airtight container for up to 7 days.